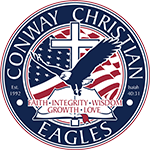 CHRISTIAN • COLLEGIATE
Eagle Weekly
October 13, 2017
CCS Spirit Week at Chick-Fil-A!: Come into Chick-fil-A Conway Commons and mention Conway Christian BEFORE you order for the school to receive a $1 credit per transaction. Come in as often as you want during the week and mention the school every time!
(Be sure and say you are with Conway Christian BEFORE you order. It will not count if you say it during or after the order has been placed.)
Box Tops for Education: Please send your box tops to school by Monday, October 16. Volunteers are needed to organize, cut and count box tops. If you would like to organize and clip box tops at home for service hours, please contact Felissa Scott at felissa.scott@gmail.com or 352-682-0729.
Concession Stand Volunteers Needed: We are in need of help in the concession stand this Friday night for Homecoming and next Friday night for Senior night. Please use the link below to sign up if you can help. Thank you!
http://www.signupgenius.com/go/10c0f4eafa828a7f49-2017
Student Safety Concerns: For the safety of your children, please do not allow them to play under the bleachers at the football or volleyball games. They should also stay inside the fenced area at all times during the football game.
Lunch Orders: Lunch orders for the weeks including October 16th - October 26th are now open for ordering. Lunch orders will close at the end of the day today. Please remember to check your child's schedule for field trips that may be occurring during this time period, as lunch orders are non-refundable.
Lunch Volunteers Needed: We are in need of one volunteer at each campus each day to assist with lunches. To help with lunches during the month of October, you can sign up here: http://www.signupgenius.com/go/5080849a9a62fa1fa7-october.
Vision Screening Reminder: Students in Kindergarten - 2nd grade, 4th, 6th and 8th grade will have vision screenings Monday, October 16th. Students should bring or wear their contacts or glasses for the screening.
Sun

day

Mon

day

Tue

sday

Wed

nesday

Thu

rsday

Fri

day

Sat

urday

Pastor Appreciation

October 12, 2017

A time to honor and show appreciation to our church leaders.