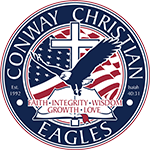 CHRISTIAN • COLLEGIATE
Admissions
Welcome to Eagle Country!
Since 1992 Conway Christian School's mission has been to assist families in the Christ centered, biblically directed education of their children. We strive to fulfill this mission by providing a PK - 12th grade college prep education committed to the daily pursuit of excellence.
As we partner with families who desire a Christian, collegiate education, we desire to maintain an atmosphere of love and encouragement by pointing students to our Lord and Savior, Jesus Christ while striving daily for excellence in Academics, Fine Arts and Athletics.
We would love to have you experience Eagle life first-hand! Once you've had a chance to browse our website, contact Sherry Rowlett at srowlett@conwaychristianschool.net to schedule a personal tour or to book a shadow day.
NOTICE OF NONDISCRIMINATORY ACCEPTANCE POLICY
Conway Christian School admits students of any race, color, nationality and ethnic origin.