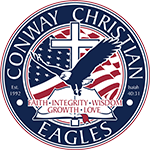 CHRISTIAN • COLLEGIATE
Giving
Conway Christian School is blessed to celebrate its 25th anniversary this school year!
Over the past two and a half decades we've seen God's hand at work throughout our ministry of educating students from a Jesus-centered worldview. From the day Conway Christian opened its doors at a local church to the current campus we now enjoy...all thanks goes to God for the provisions provided to reach this milestone anniversary.
We also thank those who have supported us along the way through gifts of great financial sacrifice and dedication. It's because of you we're "celebrating our past, and embracing our future." In order for Conway Christian to take the next step, for us to see the vision for our future come to life, we'll need the support of our parents, grandparents, alumni and business partners.
We want to encourage anyone who believes in the difference a college-prep, Jesus focused education can have on central Arkansas and beyond to support Conway Christian. We're excited about the plans God has for our next 25 years...will you be part of the journey with us?