Book Lists - Select a Grade Below
Online Bookstore-MBS Direct and eBook Information

Free Shipping on orders more than $99 from July 10th to 16th
Bookstore Opens July 1st
MBS Direct is now BNC and will provide new and used textbooks for Kindergarten through 12th grade.
Intermediate/High School: If purchasing eBooks, please refer to the following "How to Guide": eBooks "How to Guide" click HERE
School-issued student Chromebooks have the Bookshelf app loaded for students to access eBooks. Students need a username and password to access their eBooks in the Bookshelf app. The student account is created by parents on Vitalsource.com after purchasing eBooks from BNC or Bob Jones.
Class Supply Lists - Select a Grade Below
School Tool Box - Accepting Orders Now
All orders will be delivered directly to your home.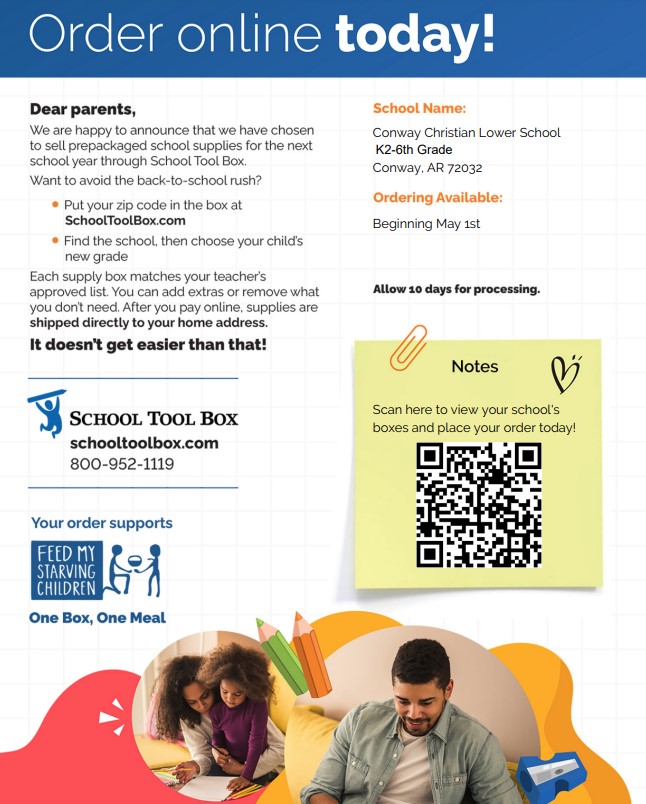 Orders will be delivered directly to your home.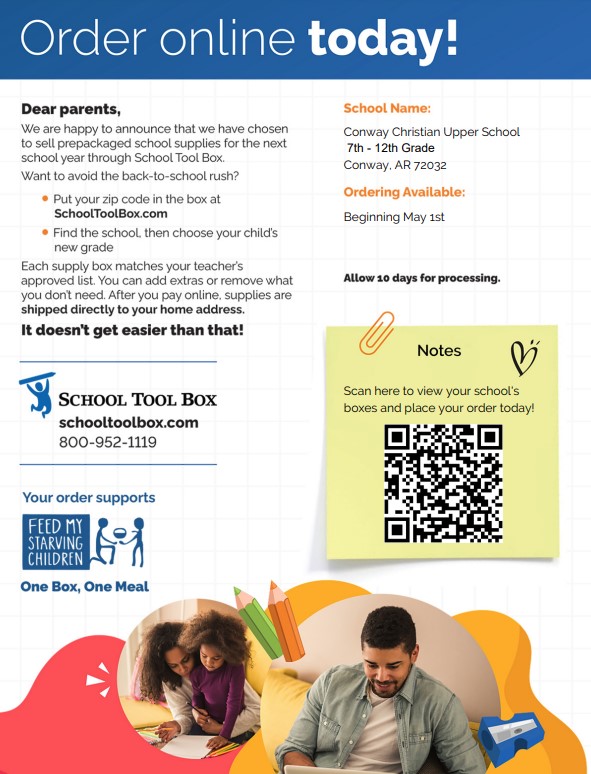 The Extended Care Program at Conway Christian is a before and after school child care program provided for our students PreSchool through 6th Grade. Conway Christian's Before Care begins at 7:00am and the Afternoon Care begins at 3:10pm. The program provides a safe environment, an encouraging atmosphere, and an opportunity for your child to continue growing academically, spiritually and socially.

The Extended Care Program is certified by the Arkansas Department of Human Services (DHS) as a licensed child care provider. Many of our Extended Care Staff are teachers and are CPR certified.
By enrolling my child(ren) at Conway Christian School, I understand that the school may publish photos of my child(ren), and their name and likeness, for use in the Conway Christian School's print, online and video based marketing purposes, as well as other Conway Christian publications.
**This release is for all publications, excluding the yearbook.**
If you do NOT wish to allow your child(ren)'s photo(s) to be utilized in Conway Christian School's marketing purposes, please email:
nophoto@conwaychristianschool.net