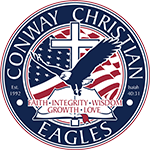 CHRISTIAN • COLLEGIATE
Eagle Weekly
Home Playoff Game Friday, Article from Mr. Carson, Eagles Nest Specials
November 14, 2018
2nd Round Home Playoff Game: The Eagles take on Fordyce this Friday at Mission Field. The game is set for 7:00. We need a big crowd to come out and support the team as they continue their pursuit of a state championship. The weather is predicted to be nice so make plans to cheer on the Eagles! Reminder: No booster or employee passes will be accepted as this is an Arkansas Activities Association (AAA) event. Gate admission is $6 for students and adults.
Round 2 Playoff Volunteers Needed: We need help at the gate, with concessions, the grill and clean up this Friday night as we host Round 2 of the playoff games. Please click this link if you can help in any area.
Article from Mr. Carson: This is an interesting post from a leading education consultant and sociologist. He briefly discusses some reasons why the current generation (Gen Z) is hesitant to accept responsibility and then a tip on how to motivate them. It's a quick, good read. Also, Tim Elmore might be someone you'd like to follow for good advice on Gen Z.
Basketball Volunteers Needed: Now is the time to sign up to volunteer for basketball concessions! Please click here to sign up if you can help.
Eagles Nest: There is a special online order currently open just this week for new fall/winter apparel. These items are perfect for playoff football games, Christmas presents or for students to wear at school. This special sale is only available this week, closing on Friday (11/16) at midnight. These items will not be available in store, so do not miss the opportunity to buy one of these items. Click here https://cceagles18.itemorder.com/ to view items and place your order. Your purchases will ship to the Eagles Nest for pick-up.
November/December Dates to Remember:
November 19-23 - Thanksgiving Break; No School
December 13 - Jr./Sr. High and 6th grade Choir Christmas Program; 6:30 pm @ Harlan Park Baptist Church
December 18 - Lower School Christmas Program; 6:30 pm in the gym
December 21 - Preschool and Kindergarten Christmas Program; 9:30 am in the gym
December 21 - Early Dismissal; Lower School dismissal @ 11:45, Upper School dismissal @12:00
December 22 - January 6 - Christmas Break; No School
Sun

day

Mon

day

Tue

sday

Wed

nesday

Thu

rsday

Fri

day

Sat

urday

Eagle Fest

April 6, 2019

Booster Club sponsored - food, fun and fellowship