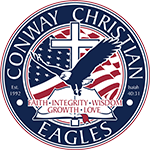 CHRISTIAN • COLLEGIATE
Eagle Weekly
Veterans Day Chapel Invitation
November 05, 2018
Dear Conway Christian Families,
As we approach Veteran's Day on November 11, we thank God for each military person who has served our country.
A special chapel service honoring our veterans will be held this Wednesday, November 7 at 9:30 a.m. in the gym. If you have served in the military or are currently serving, we invite you and your family to this special service. We also encourage you to invite family members and friends who have served our country. We would like to recognize them and thank them personally for their service and sacrifice.
Please keep our soldiers and their families in your prayers. May we never forget the sacrifices that have been made on our behalf for the freedoms we enjoy every day.
Sun

day

Mon

day

Tue

sday

Wed

nesday

Thu

rsday

Fri

day

Sat

urday

Eagle Fest

April 6, 2019

Booster Club sponsored - food, fun and fellowship